Inhalt
College and University Landscape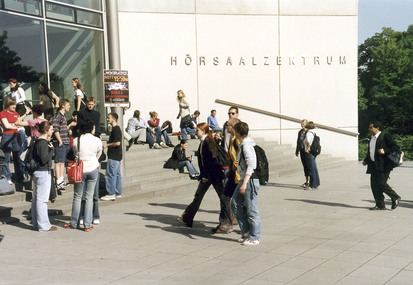 Universities
The Saxonian cities of Leipzig, Dresden, Chemnitz and Freiberg are all university centres rich in tradition, each with a broad spectrum of subjects on offer in the fields of Engineering, Natural Sciences, Humanities, Social Sciences, Business Administration and Law.
Dresden
Technische Universität Dresden
36,000 students
www.tu-dresden.de
www.tu-dresden.de/internationales
International Office:
+49-351-46342000
auslandsamt@tu-dresden.de
Leipzig
Leipzig University
28,300 students
www.uni-leipzig.de
www.zv.uni-leipzig.de/studium/studium-international/internationale-bewerber/fluechtlinge-asylbewerber.html
International Centre:
+49-341-9732020
auslaenderstudium@zv.uni-leipzig.de
Chemnitz
Technische Universität Chemnitz
11,600 students
www.tu-chemnitz.de
www.tu-chemnitz.de/international
www.study-in-chemnitz.com
International Office:
+49-371-53113500
iuz@tu-chemnitz.de

Freiberg
TU Bergakademie Freiberg
5,300 students
www.tu-freiberg.de
www.iuz.tu-freiberg.de
International University Centre:
+49-3731-393395
director@iuz.tu-freiberg.de
brigitta.boehland@iuz.tu-freiberg.de
Universities of Fine Arts
Music, Theatre, Dance, Visual Arts, Graphics and Book Art – Saxony offers an excellent education in these areas. One important feature is the regular collaboration with some of Saxony's most famous orchestras, theatres and art collections.

Dresden
University of Music Carl Maria von Weber Dresden
600 students
www.hfmdd.de
+49-351-4923634
studsek@hfmdd.de

Dresden Academy of Fine Arts
650 students
www.hfbk-dresden.de
+49-351-44022141
hintelmann@serv1.hfbk-dresden.de
Palucca Hochschule für Tanz Dresden
200 students
www.palucca.eu
+49 -351-2590621
studentenbuero@palucca.eu
Leipzig
University of Music and Theatre Leipzig "Felix Mendelssohn Bartholdy"
1,000 students
www.hmt-leipzig.de
+49-341-2144620
ute.fries@hmt-leipzig.de
Academy of Fine Arts Leipzig
600 students
www.hgb-leipzig.de
+49-341-21350
hgb@hgb-leipzig.de
 
Universities of Applied Sciences
For those who are seeking a practice-oriented course of study, they cannot go wrong with one of the five universities of applied sciences. Here you can acquire an university degree in the following fields: Engineering, Business Administration, Media Sciences, Social Sciences or Arts.
Dresden
Hochschule für Technik und Wirtschaft Dresden
University of Applied Sciences
5,000 students
www.htw-dresden.de
www.htw-dresden.de/studentensekretariat
Studentensekretariat:
+49 (0)351 462 25 97
studsek@htw-dresden.de
Leipzig
Hochschule für Technik, Wirtschaft und Kultur Leipzig
University of Applied Sciences Leipzig
6,000 students
www.htwk-leipzig.de/en
Dr Birgit Päßler, Student Office
+49 (0)341 3076 6298
birgit.paeszler@htwk-leipzig.de

MIttweida
Hochschule Mittweida
University of Applied Sciences Mittweida
6,800 students
www.hs-mittweida.de
www.hs-mittweida.de/international
Akademisches Auslandsamt / International Office:
+49-3727-581737
international@hs-mittweida.de
Zwickau
Westsächsische Hochschule Zwickau
University of Applied Sciences Zwickau
5,000 students
www.fh-zwickau.de
www.fh-zwickau.de/aaa
International Office:
+49-375-5361060
akademisches.auslandsamt@fh-zwickau.de
Zittau / Görlitz
Hochschule Zittau/Görlitz
University of Applied Sciences Zittau/Görlitz
3,200 students
www.hszg.de
www.hszg.de/international
International Office:
+49-3583-611500
s.kuehne@hszg.de
University of Cooperative Education
Saxony offers a dual-course study system, combining theoretical and professional training at the "Berufsakademie" (University of Cooperative Education). This tailor-made programme offers both academic and hands-on experience at seven locations in Bautzen, Breitenbrunn, Dresden, Glauchau, Leipzig, Plauen and Riesa. It is designed for those who would like to complete their Bachelor's or Diplom degree in three years and features small seminar groups, compact courses, training allowances and no numerus clausus.
Berufsakademie Sachsen│Zentrale Geschäftsstelle
Technologie- und Wissenstransfer,
Internationales und Interkulturelle Kompetenz
+49 -3763- 173-135
info@ba-sachsen.de

zum Seitenanfang