Inhalt
Studying in Saxony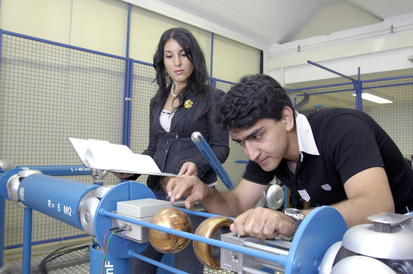 In Saxony, you can really get your education moving
Saxony has a long-standing tradition as a first-class address for university education. More than 112,000 students, including 15,000 international students, benefit from upwards of 450 modern and multifaceted degree programmes.
You can choose between internationally recognised Bachelor's and Master's degrees, state examinations to acquire teaching qualifications or the highly-respected German "Diplom" in Engineering. This is one of Saxony's particular strengths: Almost 30 per cent of all students enroll in courses leading to engineering degrees.
Saxony offers excellent tertiary education – with no tuition fees. Students are offered both efficient study programmes and excellent supervision, which is why most of Saxony's degree programmes are completed more quickly than the national average for Germany as a whole. The universities and colleges in Saxony are superbly equipped with state-of-the-art laboratories, libraries and computer workstations.
Career opportunities in both commerce and science abound in Saxony. Many businesses can look forward to employing well-trained professionals in the years to come. Those interested in research will discover a tight network of excellent research facilities. Almost 50 non-university research institutes are located in the Free State of Saxony.
Only a few German federal states have achieved this level of diversity. And, of course, much more awaits you in Saxony: beautiful cities and wonderful countryside, a wealth of culture and youth hotspots as well as open-minded, tolerant people.

zum Seitenanfang